Kirloskarvadi gets a special tribute as India Postal Dept. releases two special covers and pictorial postal stamp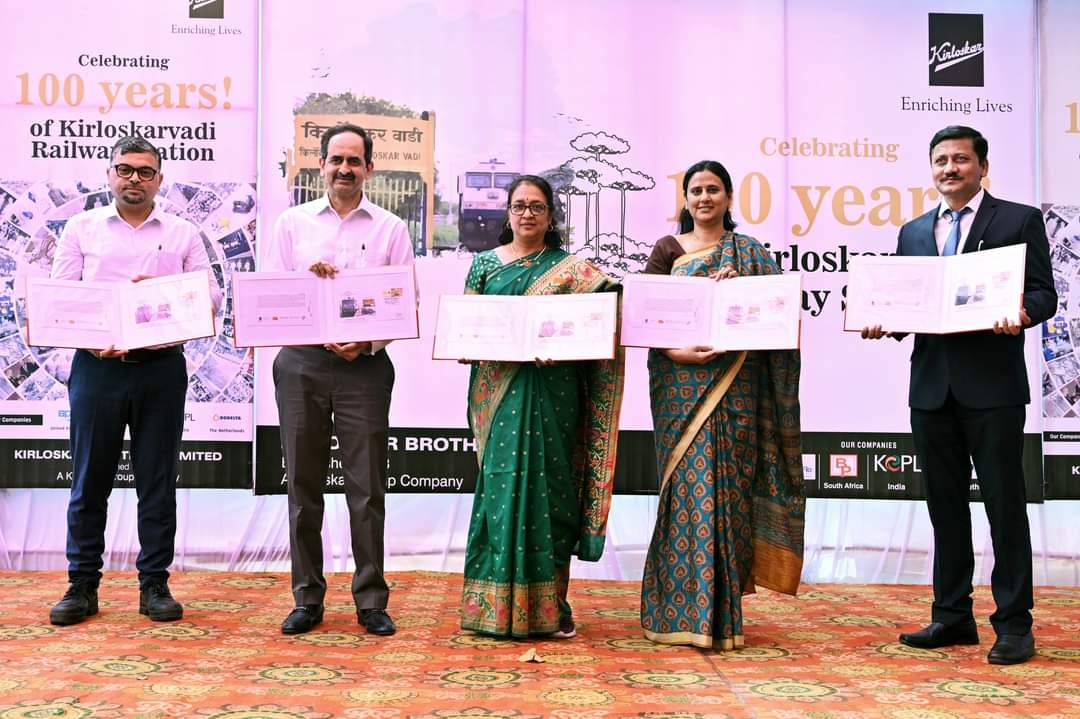 As a way of recognising the contribution made by Kirloskar Brothers Ltd in the development of the city of Sangli, the Kundal Road railway station was re-named as Kirloskarvadi railway station on 15, February 1922. To commemorate the centenary year of the Kirloskarvadi railway station, a special cover '100 years of Kirloskarvadi Railway Station' was released. During the event, to honour the Kirloskarvadi factory, India Post released a unique pictorial stamp having KBL pump picture and another special cover was released under the scheme of 'One District One Product' to highlight the importance of Kirloskarvadi, a centre for manufacturing pumps and spares.
This grand event was held at the historic Kirloskarvadi Railway Station and was graced by several dignitaries, including Smt. Renu Sharma, Divisional Railway Manager, Pune Division, Indian Railways, Smt. Veena Srinivas, Chief Postmaster General, Maharashtra Circle, India Post, Mr Sanjay Kirloskar, Chairman and Managing Director, Kirloskar Brothers Limited, and other senior members of Indian Railways, India Post and Kirloskar Brothers Ltd.
One of the oldest industrial townships in the Sangli district of Maharashtra, India, Kirloskarvadi, which was founded by Shri. Laxmanrao Kirloskar in 1888, is today a bustling satellite suburb of the city besides emerging as a thriving business township over the years. It has been supporting communities and enriching lives for more than a hundred years. With a dream of creating an industrial township, the visionary set up the factory – the flagship manufacturing plant, Kirloskar Brothers Ltd, near the Kundal Road railway station in Sangli. His initiative provided a source of strength to the industrial and agricultural revolution in the country. Kirloskarvadi was the first site where the company began manufacturing the centrifugal pump in India and has presently evolved as a manufacturing hub for a range of engineering products. It has played a crucial role in establishing India's engineering dominance at the global level.